USA Sporting Clays Team depends on its generous donors and sponsors to fund its participation in major international competitions, and without these supporters, we would not be able to represent the United States by sending our country's best Sporting Clays and FITASC shooters. When you factor in entry fees, airfare, hotels, car rentals, food, practice, and ammunition, it costs approximately $4,000 per team member per year or approximately $175,000 annually.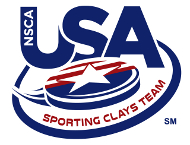 All donations made to the USA Sporting Clays Team go directly to fund the team. Although these donations may be made through the NSCA, the funds are passed directly to the USA Sporting Clays Team and are used exclusively for its purposes.
A donation of any size helps ensure that we can continue sending U.S. shooters to international competitions. NSCA is an approved 501(c) (3) organization, and as such, all donations are tax-deductible. Your entire donation will go to the USA Sporting Clays Team and to no other NSCA activity.
There are many ways you can contribute:
When you join or renew your membership and pay your dues, you may add a donation for the USA Sporting Clays Team. The full amount you designate as your donation goes directly to the USA Sporting Clays Team.
You or your company can donate an item of sufficient value to allow it to be raffled as a benefit to the USA Sporting Clays Team.
Your club can designate a shoot to benefit the USA Sporting Clays Team and donate a portion of the proceeds from it.
You may make a donation in honor or in memory of someone.
Sponsor a concurrent team. If you have a favorite concurrent team and would like to sponsor them at the World English and/or World FITASC, we can provide more information on expenses for the coming year's shoots.
Use your imagination! We'd love to hear your idea for contributing to the USA Sporting Clays Team.
We will acknowledge all donors on our Donors and Sponsors page on this website.
You can donate online here.
Make checks payable to:
USA Sporting Clays Team
Remit to:
Attn: Brett Moyes
National Sporting Clays Association
5931 Roft Road
San Antonio, TX 78253
For More Information Contact:
Brett Moyes
NSCA Director
210-688-3371 ext. 124
bmoyes@nssa-nsca.com
Thank you for your support!