Tom "Bucky" Buchanan Obituary
Members and staff of NSSA mourn the death of skeet referee Tom "Bucky" Buchanan, who died on Friday, May 3 at his home in Livonia, NY, at the age of 61. He was known for his sharp sense of humor, generosity, kindness, and dedication to his family, friends, community, and NSSA.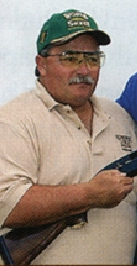 Funeral services were held in Livonia on Thursday, May 9, followed by a celebration of his life at the Conesus Lake Sportsman's Club.
Skeet shooting and refereeing were a second career for Bucky, as well as one of his favorite hobbies. He served as the World Skeet Shoot Chief Referee from 2000-2007. He was a lifetime member of the Conesus Lake Sportsman's Club, at one time serving as President. In 2007, Tom was inducted into the NY State Hall of Fame and awarded the prestigious Roland Smith Award.
Bucky grew up in the towns of Geneseo and South Lima, NY, and graduated from Livonia High School. He worked in the landscaping business, then as a horticulturalist for 10 years at the University of Rochester. He also worked for the Monroe County Water Authority for nearly 30 years, most recently as Crew Foreman. An active member of the community, Tom served as Vice Mayor on the Village Board of Livonia and volunteered as a coach for the Vince Lombardi football program.
Bucky is survived by his son Shawn Buchanan, brothers and sisters James (Susan) Buchanan, Kathleen (David) Horne , Robert (Kathy) Buchanan, Margaret (Greg) Spillers, William (Louis DiNolfi) Buchanan, Andrea Chichester, Christopher (Sandee) Buchanan, and Michael (Gary Shelto) Buchanan, as well as many nieces, nephews, and cousins. He was preceded in death by his father Hugh in 1993 and mother Katherine in 2001.
To send condolences or for further information, see doughertyfuneralhomes.com.