Toni Ann Rogers Steen Obituary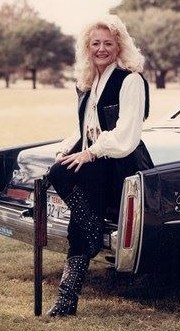 We are saddened to report that Toni Ann Rogers Steen, a well-known skeet shooter, shoot host, and promoter of the sport, passed away on December 20, 2014 at a hospital in Dallas following a short illness.
Toni was born in Oklahoma City on August 28, 1946, but was a lifelong Dallas resident. With her vivacious, engaging personality, Toni endeared herself to everyone she met. Although she was petite in stature, she had an exuberant presence that filled the room. Always charming and glamorous, when Toni entered a room, she immediately became the center of attention.
Toni was inherently high-spirited and fun-loving, and she was the quintessential hostess. She always wanted everyone around her to be entertained and happy. Her penchant for everything bold, colorful and exotic manifested itself in her signature taste in decor and fashion. Part of her mystique stemmed from her ability to wear flamboyant attire with flair and aplomb.
Over the decades, Toni's interests were diverse, ranging from skeet to backgammon to ballroom dancing. Whatever her avocation at the time, she ranked among the best. Toni devoted much of her time to competing in skeet tournaments and promoting the game, working her way to the top echelons of the sport. She also sponsored the annual Toni Rogers Skeet Extravaganza at the National Shooting Complex from 2004 to 2009. Toni holds the distinction of being the first female member of the Board of Directors of the Dallas Gun Club.
Toni also supported a variety of charities. Her friends always knew that they could count on her to attend their fundraisers and charity balls.
"Toni was a great supporter of the game of skeet and its shooters, clubs, and referees," said Michael Hampton, Jr., NSSA-NSCA Executive Director. "We will miss her, and we offer our sincere condolences to her family and her many friends."
Among Toni's survivors are her husband, Allen R. Steen, stepdaughters Linda S. Mayes and Pamela L. Negri, stepson William A. Steen, three step-grandchildren, and her mother and stepfather, Anita R. and Dan E. Kamperman.
A funeral service was held on Sunday, December 28, 2014 in Dallas.