Bud Decot Passes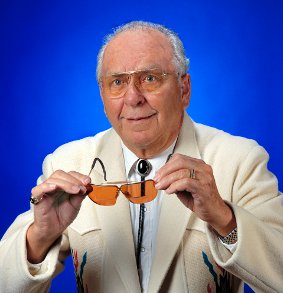 Robert "Bud" Decot, founder of Decot HyWyd Sport Glasses, died suddenly February 10, 2014, at his home in Phoenix, Arizona. Bud was 88 and lived each day to the fullest, right up until the very end. Bud was an industry icon and fixture at major NSSA-NSCA events.
In 1947, after serving in the U.S. Navy, the young licensed optician was asked by his father, a renowned eye surgeon and hunter, to design a pair of shooting glasses. Two years later, Bud attended his first Grand American Trap Shoot in Vandalia, Ohio, to shoot and to sell his Decot ClearSite Goggles. Little did he know then that he would attend 50 consecutive Grand Americans, as well as attending skeet shoots, sporting clays shoots, and conventions all over the country selling the Decot HyWyd Sport Glasses that he designed.
In 1964, he found himself so busy selling glasses that he hung up his shotgun and retired from competitive shooting. In 1976, he invented interchangeable lenses. Bud devoted his life to serving the "champs" of the shooting sports world, spreading his positive philosophy and encouraging people to "get out of their own way."
"Bud was a strong supporter of the shooting sports and a pioneer whose products have made an impact on the safety and performance of shotgunners," said Michael Hampton, Executive Director of NSSA-NSCA. "Bud was a friendly and innovative man, and he will be missed."
His staff, whom he considered family, will continue to serve his loyal customers as he did for 64 years.
Bud is survived by his daughters, Susan Decot Collins, who continues to be a part of the family business, and Linda Paolini of Buffalo, NY; eight grandchildren, and 16 great-grandchildren. He was predeceased by his son, Bob, who at the time of his death in 1994 was president of the company.
Anyone who would like to make a memorial donation in Bud's name can send it to: Arizona Youth Trap Shooting Association, c/o Tucson Trap & Skeet Club, 7800 W. Old Ajo Hwy., Tucson, AZ 85735.