Stephen R. Parks Obituary
NSCA Life Member Stephen Robert Parks of Gervais, Oregon, passed away on September 3.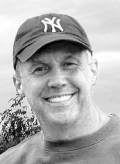 Stephen co-owned Salem Clay Target Sports with his wife, Suzanne. He supported local Boy Scouts and Eagle Scouts in securing their shotgun and safety patches and was an excellent teacher in anything related to shotgun shooting. He was a valued member of NSCA who will be missed.
Stephen's other interests included fly-fishing and fly-tying, and with his family he also enjoyed traveling, pheasant hunting, riding motorcycles, and spending time on the Oregon coast. He was known as a gracious, kind, and unselfish person, noted for his gentle heart and loyal friendships.
He is survived by his wife, Suzanne; his mother, Maree Rushlow; his twin sister, Elaine Holland; his stepson, Shane Marx, of Salem; and stepdaughters, Leilani Harris of Atlanta and Yasmine Marx, of Salem; daughter-in-law, Pamela Marx; and son-in-law, Judson Harris; grandchildren, Brianna Wheeler, Madison Wheeler, Zoi Yale and Emma Harris; and three grandbabies coming this fall.
A Celebration of Life was held at The River Place on Thursday, September 12. Contributions may be made in Stephen's memory to the Hep C Connection at hepc-connection.org.