U.S. Open Info from Host Back Woods
With just two weeks to go until the May 12-19 U.S. Open Sporting Clays Championship, host Back Woods Quail Club (SC) has passed along some updates and information to help you plan your trip.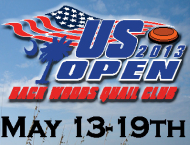 Event Registration. Spots are still available in most events, with the exception of FITASC. Original dates filled early, so FITASC events are now being offered on Sunday and Monday, May 12-13.
On-site Registration. Registration will open at 8 a.m. on Sunday, May 12. All other days, registration will open at 7 a.m.
Lodging. Rooms are still available in the area. Call Lauren or Sally at the Chamber of Commerce, 843-546-8436.
RV Spots. If you have one reserved, you should have received a map to the lot you will be using. If you have NOT received your information including directions, please email the club at R1466@sccoast.net so they can provide it to you.
Ammo. It is recommended that you pre-book your ammo with Parks & Son, the ammo vendor. Contact Joe Gardner, 336-399-7728, Joe@Parksandson.com. See the list of available ammo.
Cell Phones. AT&T has a tower on-site, but all other providers get very little service. If you need to make calls while on the grounds, we suggest that you consider purchasing a pre-paid AT&T phone.
Wi-Fi. Wi-fi service will be available in the vendors' area and also in the RV lot A area. There is no charge for its use, but the system will require you to provide your name and address at initial log-in.
Parking. Please pay attention to signage at the entrance to Back Woods from Hwy. 41. Trailer parking will be on the west side of Hwy. 41, and vehicle parking will be on the east side of Hwy. 41 (same side as club), but just north of the club's main entrance. Normal parking and entrance will only be used by VIPs, Vendors, and Sponsors.
Shuttles. Shuttle carts will be operating to and from the parking lot, club house, and courses. No vehicles are allowed on any courses.
Cart Rental. If you have reserved a cart, you will be able to pick it up before going to registration, for your convenience. Cart rental will be located beside general parking. Carts must be returned to the cart rental area daily.
Trailer Parking Area. If you bring your own cart, you are expected to park your trailer in the trailer parking area each day.
Security. Back Woods will provide security from 8 p.m. until 7 a.m., Sunday, May 12 through Sunday, May 19.
Gun Storage. Back Woods will offer gun storage for a fee of $5 per gun per night as a convenience. Guns being stored are required to be in some type of gun sleeve or case with a name to match the name on your driver's license or photo ID.
Welcome Party. On Friday night, Back Woods will host a welcome party for all participants. Finger foods will be served.
Saturday Night. There will be drawings for guns, silent auction items provided by NWTF with proceeds going to the promotion of youth shooting in South Carolina, a Calcutta for the top 8 Make-a-Break qualifiers, awards presentations for the Prelim, Sub-Gauge, SxS, and Pump events, and a "Great Seafood Dinner," followed by the Top 8 Make-a-Break shoot-off under the lights.
Registration Issues. Please email Lois Lessing at wyshotgun@hotmail.com with any questions or registration changes.
Bible Study. Gebben Miles will offer a Bible study under the pavilion adjacent to the pro shop on Saturday evening at 5 p.m. All are invited.
Meal Vendors. Five different vendors will be on site to offer a variety of meals, including: sausage wraps, bacon and egg sandwiches for early arrivals, hamburgers, hot dogs, french fries, Southern-style barbecue, fried shrimp plates, pileau (a delicious chicken and rice dish), funnel cakes, hush puppies, and lots of sweets.
Registration for the 2013 U.S. Open Sporting Clays Championship is at Winscoreonline.com. For more information, see the event's website, 2013USOpenClays.com.