Services for William (Bill) Hugh Mains (Obituary)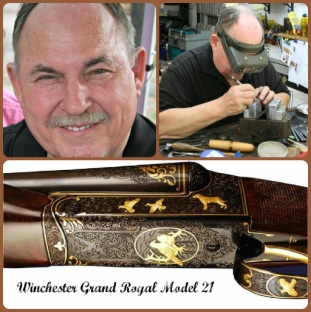 Funeral services will be held on Friday, January 25, for Master Engraver, William (Bill) Hugh Mains, who passed away on December 28, 2012, in Bandera, TX.
Mains, of Knightstown, IN, performed his trade for many years at skeet events, including the World Shoot.
He was survived by his sister, Margaret Coggeshall, daughters Robin E. Mains and Kimberly B. Mains-Agee, three granddaughters, and numerous nieces and nephews across the globe.
Bill began his career by serving in goldsmith and watchmaker apprenticeship positions during high school. He graduated in 1954 as a hand jewelry engraver from Bowman Technical School in Lancaster, PA. He began engraving guns while serving in the United States Air Force. Following honorable discharge from the Air Force in 1963, Bill invented the Rotary Foot-Wheel Engraving Bench, resembling a potter's wheel with a lathe chuck on top, allowing him to create his renowned continuous-scroll style of hand engraving.
Bill was the contracted factory engraver for several firearm manufacturers during his long career. He was the primary factory Colt engraver from 1967-1972 and is attributed in many books with having engraved more 2nd generation Colt Single Actions than any other engraver. Most of Bill's factory-engraved Colts are stamped with a small buffalo under the cylinder pin, as he was working out of Buffalo, NY at that time.
He was also the factory engraver for the Ithaca Gun Company, engraving all of their Single Barreled Trap Guns and many others for the last eleven years of their production.
For 27 years, Bill lived in Las Vegas, NV, where he engraved guns, jewelry, and other items for celebrities such as Elvis Presley, Frank and Barbara Sinatra, Sammy Davis, Jr., Dean Martin, Liberace, Steven Spielberg, Buddy Hackett, Wayne Newton, Shirley McClain, and BB King; famous boxers Riddick Bowe, the Spinks brothers, Mike Tyson, and Oscar de la Hoya;, and prominent political figures, Lt. Col. Oliver North, and former leaders of Indonesia (Suharto) and Algeria (Boumedienne). Bill also engraved for thousands of private individuals through his long career, and his work has been featured in numerous books and magazines.
Funeral services will be held January 25 at 11 a.m. at the Nashville National Cemetery, 1420 Gallatin Road South, Madison, TN 37115.