A.B. "Scotty" Mitchell Obituary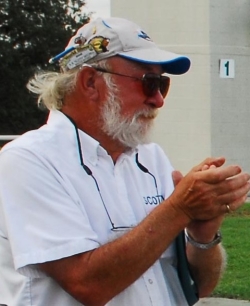 Longtime NSSA member and referee A.B. "Scotty" Mitchell lost his battle with cancer on Sunday, November 18, at the age of 71.
Scotty joined NSSA in 1971, registered well over 100,000 targets, and refereed all over the country, including at the World Shoot. He was New York State Chief Referee from 1984 to 1995. He was also a member of the Long Point Waterfowl Association, Ontario Association of Anglers and Hunters, the Fin, Feather and Fur Conservation Club (3F Club), and the Ilion Fish and Game Club. He worked for General Motors for over 30 years.
Scotty's daughter spent the summer with him rehashing old skeet stories, and the one he mentioned in particular was the HOA "non" shoot-off at the 2008 World Championships. The coin that was used in the coin toss was a British penny of Scotty's. Afterwards, they packaged it up and sent in to the NSSA Hall of Fame Museum where it is on display today. Scotty's daughter Cory stated, "My father truly believes that history was made that day, not only for the sport, but for the great show of sportsmanship between two friends, and he will forever be proud to have witnessed it."
Scotty is survived by his wife Lorraine "Lori" (Baccus) Mitchell; children Michael (Darlene) Mitchell, Brenda Guay (Don Ellig), and Cory (David) Cooley, of N.Y.S.; and four grandchildren.
Visitation will be at the Welland Funeral Home, 827 East Main Street, Welland, on Saturday, November 24, from 2 pm to 5 pm. Funeral service will be held immediately following the visitation at 5 pm. If desired, donations to the Doug Heitman Foundation or the Hospice Niagara will be greatly appreciated by the family.
Scotty's humor, laughter, and knowledge of skeet will be greatly missed. Our deepest sympathies go out to his family.